Yacht Sentinel, remote boat monitoring system
Yacht Sentinel is a complete remote monitoring system for boats. It allows you to check at any time and at a glance the status of the vital points of your sailboat or motor boat on your computer, tablet or smartphone.

You will receive alerts via SMS and E-mail whenever one of the sensors detects an anomaly on board.
Ease your mind and the safety of your boat with Yacht Sentinel, boat monitoring system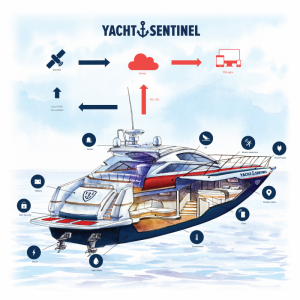 Easily Install Boat Yacht Sentinel on your boat (wireless sensor)
Download the Android or IOS app Monitor
Control, supervise your boat from the application


Basic features included included in the YS6 (main device)
Boat position alarm (at anchor or in the port)
Battery state of charge in real time and alarm if the voltage drops below a preset.
Angle (tilt) alarm (longitudinal or transversal)
Shock alarm: If something hits the boat
Temperature: Alarm if the indoor temperature rises or falls beyond a certain threshold.
Weather information
SOS: In the event of an alarm, an Alarm SMS is sent to your phone but also to your local boat manager if you want to.
Additional features with available sensors
Bilge water alarm
Break-in alarm (sensor installed on the door)
Shore power: Alarm in case of disconnection
Movement detector
Safety of objects on board, alarm if valuables are removed from the boat
Siren: will turn on if motion sensor, door sensor are triggered
GPS Antenna: keeps you in touch with your boat even in places where the GPS signal is weak.
Three possibilities to get you Yacht Sentinel installed on your boat are available to you:
Wether your boat is on French Riviera or not, please do not hesitate to contact us anytime