New! A long lasting silicon antifouling  : Sea Speed for your boat in Cannes, Antibes, Golfe-Juan or elsewhere on the French Riviera
https://youtu.be/HpYb6ADll2g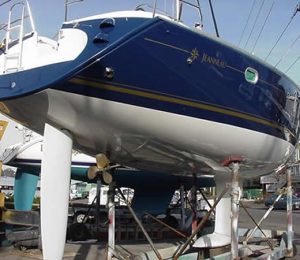 Anti-fouling is, as you probably know indispensable for your boat.
It protects the hull and prevents speed loss and increase in fuel consumption.
Antifouling is not the right word for SEA SPEED as Antifouling coatings are ablative and usually have biocides, copper oxides etc…that will "poison" the fouling (and the sea at the same time) and also have a short life time.
SEA SPEED is a fouling release coating which prevents the growth of barnacles and algae thanks to its "mechanical" properties, not chemical properties.
Could you change it to: fouling release coating.
But w
h
at if there's a 
coating
 that not only prevents
, but also improves your performances?
Sea Speed is a hard silicon antifouling release coating that increases the speed of your vessel and decreases fuel consumption. 
The life time of this one layer coating system is up to ten years. 
Because of the hard finish it's easy to clean, impact resistant and easy to repair.
Sea Speed is under class approval by Lloyd's Register and compliant with the upcoming IMO 2020 Legislation. 
Want to know more about Sea Coat Technologies? Visit the European distributor at H2O-marine.nl.
At Master Yacht Services, we strive to get innovative and eco-friendly products, that's the case with the silicone antifouling See Speed. We have choosen to be See Speed official dealer for France and Monaco.
What is Sea Speed silicone antifouling?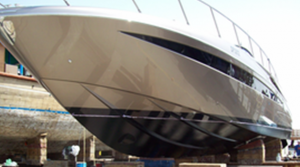 It is an antifouling free from heavy metals or biocides ahead of the IMO (International Maritime Organisation) regulation that is coming in 2020. Sea Speed's silicone antifouling meets Lloyd's and IMO's guidelines.
This paint is silicone based which makes it very slippery for algae or barnacles. It is a hard kind of silicone antifouling so it does not peel itself hence the fact it lasts up to 10 years.
With one coat, the bottom of your boat, yacht is protected with a silicone antifouling against barnacles or anything that usually sticks to the underwater part of the boat. With Sea Speed silicone antifouling, an extremely hard and smooth paint the results is higher speeds and fuel savings of up to 8%.
Easy to apply by yourself (no warranty) or have it done professionally by our team of

antifouling application

Durable silicone antifouling, the coating remains intact and will last for years

Easy to clean : dirt can be removed easily

Very easy to repair in case of minor damage

Smooth and shiny look
RAL colors available (If you want a yellow, pink and green bottom paint that's possible)
Because it contains no heavy metals and biocides, Sea Speed silicon antifouling is the perfect environmentally friendly solution for your underwater hull.
It is used by many shipping companies around the world and also by the US military. It is a product line with 16 years of experience and thousands of satisfied customers.
For more information, do not hesitate to contact us by phone or using the form below. You will find more information, including technical data, on the manufacturer's website: Sea Speed Silicone Antifouling, Want to know more about Sea Coat Technologies? Visit the European distributor at H2Omarine.nl.
 Please do not hesitate to contact us through the form below for more informations :
[contact-form-7 id="214″ title="contact us"]
Here are a few of our services you might be interested in :